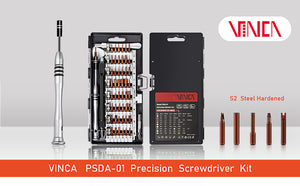 VINCA PSDA-01 63 in 1 Precision Screwdriver Kit
57 Bits, Magnetic Driver Electronics Repair Tool Kit for iPhone, Cellphone, Tablet, Macbook, PC, Xbox, Game Console, Black
VINCA DCLA Digital Caliper
How a VINCA DCLA Digital Caliper is manufactured
---
VINCA DLBA-01 Digital Level Box
2 x 180°; with ABS, Hold, and Magnetic Base
---
Clockwise Tools Digital Thickness Gauge
0-0.4"/10mm; RS232 Data Tranfsfer Available
---
About
Clockwise Tools, established in 2016 and domiciled in Los Angeles, California, is a trading company engaged in both import and export trade, with a focus on wholesale and retail of all types of measuring tools. The company maintains robust relationships with numerous high-quality production suppliers within China and Southeast Asia, such as "Youfound Precision Co.; Ltd." residing in Mainland China, and "Hoopex Co.; Ltd." based in Thailand. These are high-tech enterprises specializing in the development, design, production, sales, and service of precision measuring tools. They have accumulated more than 30 years of development history, acting as invaluable partners in our market expansion and service operations. 

The company operates under the auspices of two brands - "Clockwise" and "VINCA". At present, our product range encompasses an extensive range of calipers, indicators, depth gauges, scale series, micrometer series, angle measurement series, woodworking and construction measuring tools, measuring tool accessories, and auxiliary measurement tools, etc.

Clockwise Tools is committed to providing high-quality products with a strong competitive advantage, providing comprehensive and friendly pre-sales and after-sales services for every need. Clockwise Tools has gradually taken an important position in the international measuring tool industry. Expanding more cost-effective products to serve our customers has always been our pursuit.